About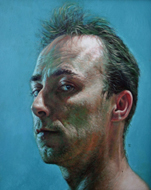 - (LEFT) Self Portrait, Oil on canvas.
Vincent Michael Brown (aka Anon Amos),born 3 December 1971, is an English artist and composer.
Vincent began painting and composing from a very early age, already exhibiting, performing and receiving awards and acclaim for his work before his teenage years.
As with many creative people, Vincents output has known few boundaries and as well as publishing music and artwork - Vincent has also published poetry and even a puzzle game.
Vincents paintings have won many awards and been selected for some of the most prestigious exhibitons in the country. He is a regular exhibitor at the National Portrait Gallery and the Royal Society of Portrait Painters.
Vincents is a multi instrumentalist playing guitar, piano, ukelele, accordion, penny whistle and more. His compositions have won several awards and he has perfomed both live and in the studio with some of the leading names in the music industry as a vocalist and a musician.
Vincent gains inspiration from the entire history of the arts, often combining traditional and contemporary elements to create original work that has a unique perspective.
Vincent works from his home in Warmley, Bristol (near Oldland), where he lives with his Wife and two children.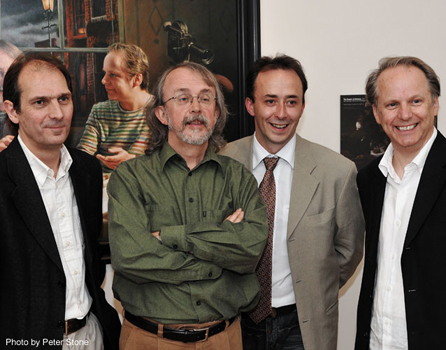 - (ABOVE) LEFT TO RIGHT: David Sproxton CBE, Peter Lord CBE, Vincent Brown and Nick Park CBE, at the unveiling of the 'Supper at Aardman' painting.
Testimonials
...beautiful and tender painting which showed great insight into the character of the sitters.
- Sir Peter Blake RA.

...unsparing exactitude and great technical competence.
- Rachel Campbell-Johnston, Art Critic, The Times.

...looking at the figures in the painting you feel as if you are looking at a real life story.
- Bel Mooney, Author.

...his portraits display a sensitivity to character and luminance that hold the attention well beyond the frame of the canvas.
- Simon Webb, Art Critic, Metro.
History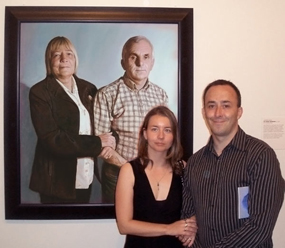 - Vincent and his wife with his painting at the BP PORTRAIT AWARDS opening ceremony.
Vincent is a regular exhibitor at The National Portrait Gallery , and the Mall Galleries, London.
For forthcomming exhibitions or further information please contact using the spam avoiding form on this site.
SELECTION OF EXHIBITIONS.
The BP Portrait Award, National Portrait Gallery, London.
The Hunting Art Prizes. The Royal College of Art, London.
The Royal Society of portrait Painters, London.
The Royal Society of British Artists, London.
The Holburne Portrait Prize, Holburne Museum.
Sunday Times Watercolour Awards, Mall Galleries, London.
Royal West of England Academy of Art.
Cork Street Open, Cork Street, London.
The Big Draw 'SELF', Chapel Row Gallery.
Mystery Portrait Gala, National Portrait Gallery, London.
The Bath Society of Artists, Victoria Museum.
Expressions, Center Space (SOLO)

- Vincent being presented with the winners prize by Sir Peter Blake RA for the Holburne Portrait Prize.
SELECTION OF AWARDS.
Best Painting Award, Royal West of England Academy of Art (RWA). WINNER
Holburne Portrait Prize. (WINNER)
Artist of the year 2012, Artist and Illustrators Magazine. (Shortlisted)
Excellence in Watercolour (Twice), RWA. WINNER
Peoples Choice Award ,Victoria Museum. WINNER
Works on Paper Award ,Bath Society of Artists. WINNER
Vincent's work at 'YOUR PAINTINGS', the BBC National Art Collection